Patriotism
Britain's declaration of war against Germany on August 4, 1914 drew all parts of its empire into the conflict. Newfoundland and its urban centres in particular greeted the call to arms with enthusiasm. On August 7, the Mail and Advocate reported that "thousands of citizens of St. John's paraded the streets singing patriotic songs." They congregated outside Government House to hear a speech from Governor Sir Walter Davidson and visited the Calypso, training ship for the Newfoundland Royal Naval Reserve.

Evening Telegram August 6, 1914
Courtesy of the Digital Archives Initiative, Memorial University of Newfoundland, St. John's, NL.
Patriotic editorials appeared in several local newspapers in the coming days. They praised Britain, condemned Germany, and called upon Newfoundlanders and Labradorians to do their bit. Some suggested that the dominion's participation in the war effort would strengthen its position within the British Empire.
"Much as we abhor and detest war with all its terrible consequences," the Western Star editorialized on August 12, 1914, "Britons may well take pride in the firm conviction that the war was none of their seeking. It was the culmination of the aggressive policy which has characterized German diplomacy for the past ten years. ...
"To-day, as ever, Britons the world over stand united in their loyalty to King and Empire. Firm in the consciousness of their power and the justice of their cause they go forth to battle for Old England's honour as eagerly and as loyally as they did in days of old."
The Daily News echoed these sentiments the next day:
"The war is not only one of defence against unjustifiable and unreasonable aggression, but it is a fight for the national existence, and for the liberties, the homes and the happiness of the people. Newfoundland is just as much threatened as any other part of the Empire. In one direction is glorious freedom under the British Flag; in the other, slavery and insult from an alien nation. Every young man who enrolls his name on the list of Volunteers is offering his services for the protection of his family, his country, and his Empire."
When the Newfoundland government announced that it would raise its own Regiment of 500 men, rather than supply volunteers to other Allied forces, the immediate response from the press and public was enthusiastic, particularly in St. John's. More than 300 volunteers came forward in the first week and the government soon decided to expand the Regiment to full battalion strength – 1,000 men with another 500 in reserve.
The public followed war news with interest and supported volunteers serving at home and overseas. Large crowds gathered at the Regiment's camp near Quidi Vidi Lake in St. John's to watch recruits train. They also lined the waterfront to say farewell to departing troops, or greet those returning from overseas. Businesses and private citizens donated money, time, equipment, clothing, and other goods to the many fundraising campaigns organized by the Newfoundland Patriotic Association (NPA) and the Women's Patriotic Association (WPA). The government and some local businesses announced that if any of their employees volunteered overseas, their jobs would be waiting for them when they returned.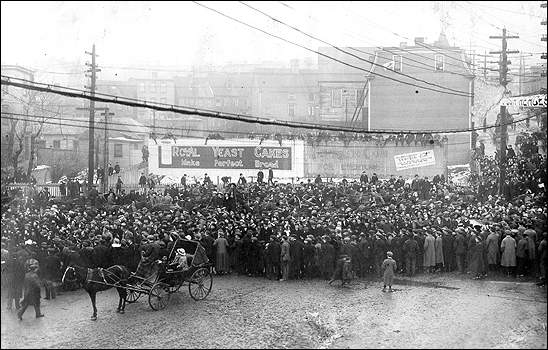 The Crowd Watches Volunteers Depart, ca. 1914
Courtesy of the Rooms Provincial Archives Division (B3-3), St. John's, NL.
But support for the war effort was not uniform. Enthusiasm was much more pronounced in Newfoundland's urban centres than its outport communities. Newspapers and other forms of mass media played a major role in stirring up patriotic fervor, but they were not very prevalent in rural areas. News was particularly slow to arrive at Labrador's remote communities, where residents sometimes did not know the dominion had gone to war until months after the fact.

King George, n.d.
Photo of King George with the Union Jack and the Newfoundland ensign, taken from a military death certificate.
Courtesy of the Rooms Provincial Archives Division, St. John's, NL.
The NPA's recruiting strategy was another problem. It largely targeted St. John's residents and did not take into account the geographical and economic barriers that dissuaded many outport residents from enlisting. Military service required an extended absence from the codfishery with little compensation, and travelling to St. John's for training was another expense that city dwellers did not have to deal with. Nor was it widely recognized that outport men were generally more inclined to join the Naval Reserve (about 2,000 did) than a land force. When newspapers reported that the majority of Regiment recruits came from St. John's, it intensified pre-existing tensions between city and outport residents.
The government's weak presence in rural areas also undercut its attempts to enlist volunteers. "For all the public service the residents get, they might well be forgiven if they failed to appreciate that they belonged to any Empire or to any group of persons outside of themselves," wrote one recruiter after a failed visit to Sopp's Island in White Bay. (Evening Telegram 8 Jan. 1917)
One of the most vocal critics of Newfoundland's war effort was William Coaker, leader of the Fishermen's Protective Union (FPU) and a member of the House of Assembly. Soon after the war broke out, he advocated for caution amid the mounting patriotism. Coaker argued that the dominion should focus its recruiting efforts on the Newfoundland Royal Naval Reserve, rather than create a much more expensive Newfoundland Regiment. He also believed that the government was ignoring its own responsibilities by allowing the unelected Newfoundland Patriotic Association to administer the war effort.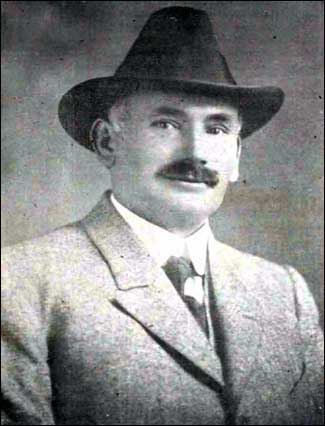 William Coaker (1871-1938), n.d.
Coaker founded the FPU in 1908.
From Richard Hibbs, ed., Who's Who In and From Newfoundland 1930, 2nd ed. (St. John's, NL: R. Hibbs, 1930) 65.
But despite the disagreements and divisions that lay beneath Newfoundland's war effort, there was widespread support for all the men and women who served overseas and who volunteered at home as soldiers, sailors, foresters, nurses, and in other capacities. Even Coaker, who had originally opposed the formation of a land force, actively recruited men for the Newfoundland Regiment once it was created.
Resources
The Image Gallery contains a Virtual Scrapbook based on a photo album held by the Provincial Archives of Newfoundland and Labrador. This scrapbook is typical of many such albums created by Newfoundlanders and Labradorians who followed with interest the exploits of their armed forces.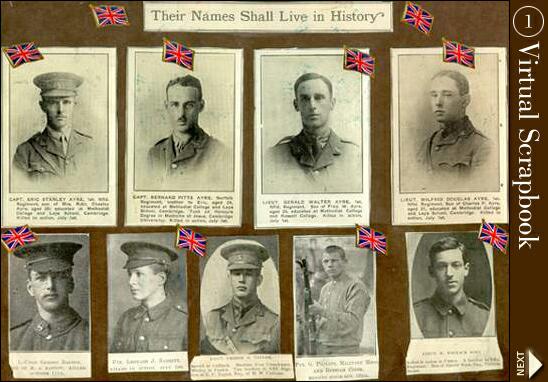 Virtual Scrapbook, Page 1
Courtesy of the Rooms Provincial Archives Division (VA-40), St. John's, NL.