The Newfoundland Regiment in Britain
Soldiers with the Newfoundland Regiment began their overseas service at military training camps in the United Kingdom. The first 538 men departed St. John's aboard the steamship Florizel on October 4, 1914. Approximately 26 subsequent drafts followed during the course of the war.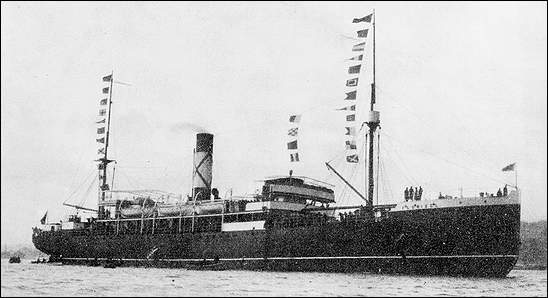 First Five Hundred on Board the SS Florizel, at Anchor in St. John's, October 4, 1914
Courtesy of the the Rooms Provincial Archives Division (NA 1249), St. John's, NL.
Salisbury Plain
The first contingent arrived at Salisbury Plain in southern England on October 21. The men spent seven weeks there, during one of the coldest and wettest autumns the region had ever experienced. It rained so hard that the mud was sometimes knee deep. Despite the discomforts, the men trained hard and their days were filled with physical exercise, rifle practice, skirmishes, and - above all - marching.
"We get up at 6 am every morning and have to light our candles to dress by, and have to be on the Parade Ground at 6:15," Sergeant (later Lieutenant) Owen Steele wrote in his journal on November 4, 1914. "Wash Parade is at 6:45 am, breakfast at 7 o'clock, and then Parade for drill again at 8:30 until 10 o'clock. At 10 am until 12 o'clock we have another Parade, then dinner, and Parade again at 2 pm to 4:30 pm."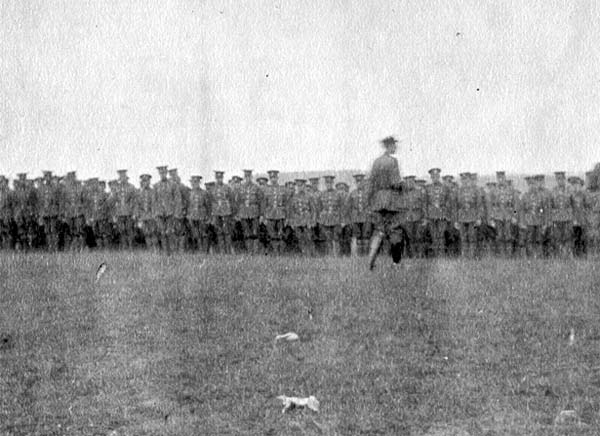 Newfoundland Regiment Soldiers on Parade in Britain, 1915
Courtesy of the the Rooms Provincial Archives Division (VA 37-33.3), St. John's, NL.
Salisbury Plain gave the men sobering insight into the magnitude of the war and the nature of military service. Before their arrival, the Regiment's training had taken place at a make-shift military camp on a cricket field in St. John's. Salisbury Plain was one of the largest military training areas in the United Kingdom and accommodated many other soldiers from across the Commonwealth.
"All around our present camping ground are fully 3,000 tents, whilst as many more are visible within a mile or two of us," Steele wrote in on December 2, 1914. "When one realizes that these tents are the present habitations of thousands and thousands of men, all busily and earnestly undergoing strenuous training with the object of fighting for the honour, and maybe, the preservation of our great nation, one then realizes also what a very serious undertaking is being carried on."
Distinct Identity
The Newfoundland Regiment was attached to the 4th Canadian Infantry Brigade at Salisbury Plain, which sparked rumours that the two units would eventually become one. "There was a general fear that our identity would be lost in a merger with some Canadian unit," Captain John Edward Joseph Fox later wrote for The Veteran magazine. "Not that we had developed a 'superiority complex' so far as our neighbours were concerned, but we felt, quite properly, that if we were to give our best we could only do so by preserving our own individuality." (69-70)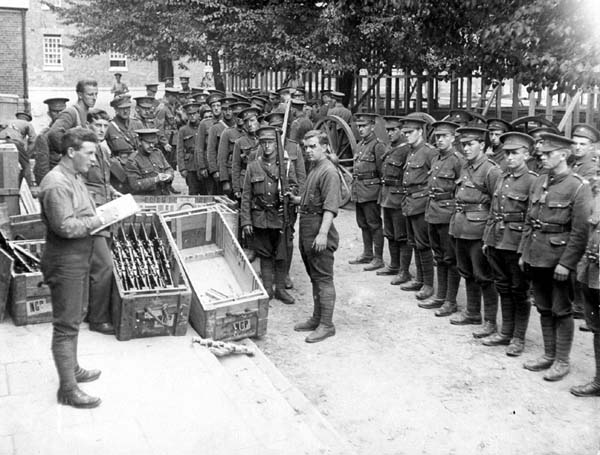 Newfoundland Regiment Soldiers Receive Rifles, n.d.
Courtesy of the Rooms Provincial Archives Division, St. John's, NL.
Concerns were put to rest in early December, when Allied commanders ordered the Newfoundland Regiment to Fort George in northern Scotland for further training and sent the Canadian Infantry Brigade to France.
Fort George
The Newfoundland Regiment arrived at Fort George on December 8 and stayed there for 10 weeks. It was a welcome change from the mud and rain of Salisbury Plain. Instead of tents, the men bunked inside the fort's buildings, on cots and mattresses. The daily routine was also less rigorous than at Salisbury Plain because winter hours were in effect. Recruits woke at 7 am, trained for three hours in the morning and then two more after lunch. On some days, they completed 34-kilometre route-marches in full military gear.
No. 3 Platoon, A Company, Fort George, Scotland, 1915
Front Row - Seated - Left to Right: Chesley Morton Peet; L/C Bertram William Oake; Capt. John Edward Joseph Fox; Lieut. Cecil Stanley James; Lieut. William Joseph Clare, M.I.D.; Lieut. Robert Holland Tait, M.C.; C.S.M. Arthur R. Canham, M.S.M.; Hon. 2nd Lieut. Charles Edward White, M.S.M.; Cpl. Robert Clare; Capt. Henry Morton Maddick; Drummer Eric Mckenzie Robertson. Also view the extra large version of the
No. 3 platoon, A Company
image.
Courtesy of the Rooms Provincial Archives Division (B-3-18), St. John's, NL.
"There we felt more at home," Fox wrote. "In the first place we were decently housed, in the barracks of the Seaforth Highlanders; secondly, the climate was excellent and not unlike that of Newfoundland at its best; finally, we were within reasonable distance of civilization, for the towns of Nairn and Inverness were but a few miles away, and Scottish hospitality, as we were to discover, was in a class by itself." (70)
However, their stay was saddened on January 1, 1915, when Private John Fielding Chaplin died from an abdominal disease. The 19 year old was the first soldier the Newfoundland Regiment lost in the First World War.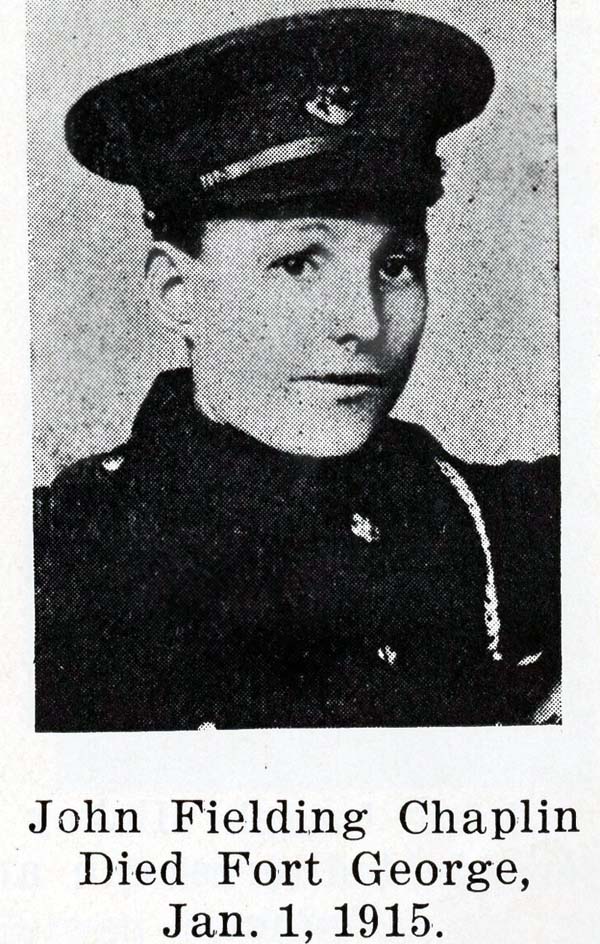 Private John Fielding Chaplin
From The Veteran 12.1 (1937): 61.
Edinburgh
On February 19, the Newfoundland Regiment was transferred from Fort George to Edinburgh. Much of its time there was spent in training, but the men also guarded Edinburgh Castle - a job never before given to an overseas unit.
While at Edinburgh, the Newfoundland Regiment was reinforced with new recruits from Newfoundland. A draft of 244 men (C Company) had already arrived on February 17; D and E Companies followed on March 30 and May 4, respectively.
Stobs Camp
On May 11, 1915, the Regiment left Edinburgh and proceeded to Stobs Camp in southern Scotland. The men were once again under canvas and following a rigorous training schedule, which Private Frank Lind described in a letter to the Daily News on May 20, 1915: "... by the time we leave here this will be a body of men 'hard as nails', for we are hard at drill from 5:30 a.m. until 4:30 p.m., skirmishing, squad-drill, company drill and physical exercise." During musketry practice, the men woke at 4:30 in the morning and trained until 8:00 in the evening.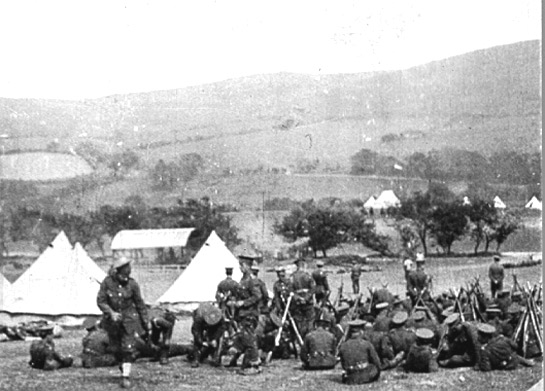 Stobs Camp, Scotland, 1915
Courtesy of the Rooms Provincial Archives Division (VA 36-4.3), St. John's, NL.
The arrival of F Company at Stobs Camp on July 10 brought the Newfoundland Regiment up to 1,500 men, which meant that it was strong enough to go into action. In early August, E and F Companies moved to the town of Ayr in south-west Scotland, which served as the regimental depot, and its training and reinforcement centre, for most of the war.
The more experienced A, B, C, and D Companies were ordered to Aldershot in southern England. The town was a final assembly point for soldiers on their way to the front lines. The men would soon learn that they were going to the Gallipoli Peninsula.
Lieutenant Owen Steele's quotes were transcribed from his diary: Collection 179, Archives and Manuscript Division, QEII Library, Memorial University