Managing the War Effort
When war broke out on August 4, 1914, the Newfoundland government faced what was in many respects a management problem. Britain needed men for its armed forces and Newfoundland was eager to contribute. Governor Sir Walter Davidson suggested that Newfoundland would raise and equip its own regiment of 500 volunteers for land service overseas. London supported his plan. But just how the dominion could meet its commitment was not immediately clear.

The Daily News 5 August 1914
Courtesy of the Digital Archives Initiative, Memorial University of Newfoundland, St. John's, NL.
The Newfoundland government had no experience in running a military. It did not have a military department and there were almost no armed forces in the dominion. The last British soldier left the island in 1870 and no local militia had emerged in the meantime. There was a local branch of the Royal Naval Reserve, but the closest thing the dominion had to any land forces was a handful of paramilitary groups: four church-sponsored cadet corps and a branch of the non-denominational Legion of Frontiersmen. There was also a Rifle Club at St. John's.
There were other obstacles. The government's financial resources were limited and Prime Minister Edward Morris's hold on the electorate was shaky. His People's Party had won only 41 percent of the popular vote in the 1913 election, and its support was regionally and denominationally based. In order to raise a military force, the government would need the support of both opposition parties, Liberal and Union, and the three church leaders, Anglican, Roman Catholic, and Methodist.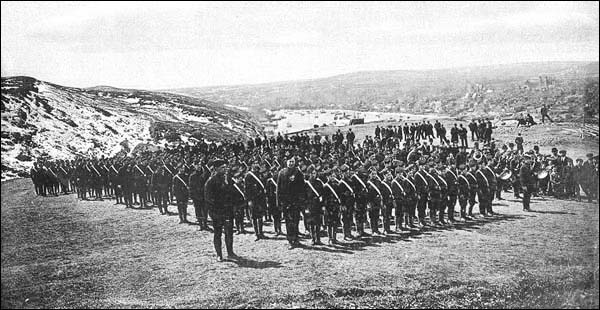 Church Lads' Brigade drilling on Signal Hill, St. John's, ca. 1910
Courtesy of the Rooms Provincial Archives Division (VA 33-71), St. John's, NL.
Nonetheless, Morris supported Davidson's initiative and was confident that his government could raise 500 men. Newfoundlanders - and particularly those in St. John's and surrounding areas - had responded to Britain's call to arms with enthusiasm. It seemed likely that recruiting would go smoothly and Morris hoped to improve his popularity among voters by backing the Regiment.
Instead of creating a military department, the government decided to establish a non-partisan volunteer organization to administer the war effort. The Newfoundland Patriotic Association (NPA) formed on August 17, 1914 and made Davidson its head. Its members included some of the most influential people in the dominion - politicians from the governing and opposition parties, merchants, representatives from the various paramilitary groups, officials from the major denominations, city councillors, doctors, newspaper editors, magistrates, and union leaders.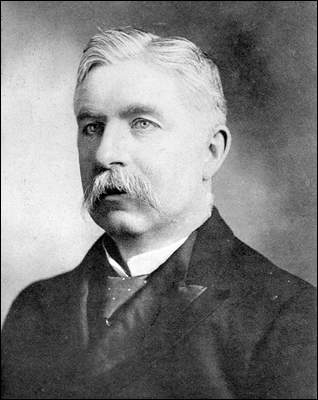 Edward Morris
Courtesy of the the Rooms Provincial Archives Division (VA-33-59), St. John's, NL.
It was unusual for a volunteer organization to replace a state-run military department, but the NPA had its advantages. The Morris government was facing an uncertain political future and significant opposition from the Liberal and Union Parties. A neutral association would be able to manage the war effort with little regard for party politics and unite people from different political and religious affiliations.
Morris was content because there would less debate over military matters in the House of Assembly and therefore less opportunity for public controversy. Davidson was also pleased, because the NPA allowed him to play a much more active role in the war effort than would have otherwise been possible. Finally, the NPA offered a quick and cost-effective response to a war that almost no one believed would last longer than a year. Setting up a government department would require much more time and resources than establishing the volunteer-run NPA.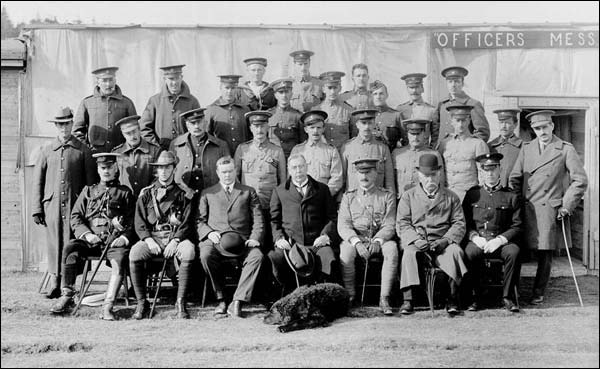 Governor Walter Davidson (front row, centre) with members of the Newfoundland Regiment, September 1914
Item consists of Seated (left to right): Capt. A.C. Goodridge (ADC. to Governor), Capt. W. F. Rendell, Capt. A. Montgomerie, HE Governor Sir Walter Davidson, Capt. W. H. Franklin, Prime Minister Sir E. P. Morris, Capt. C. MacPherson, MO.
Second Row: Lieut. H. Goodridge, Capt. C. Alexander, Capt. G. Carty, Capt. L. Paterson, MO., Capt. A. E. Bernard, Lieut. H. A. Outerbridge, QM., Capt. H. A. Timewell, P.M., Lieut. R. S. Rowsell, Capt. A. O'Brien, Capt. G. H. F. Abraham.
Back Row: Lieut. C. Wighton, Lieut. N. Alderdice, Lieut. C. Howlett, Capt. A.W. Wakefield, M.O., Lieut. J. A. Ledingham, Lieut. M. F. Summers, Q.M., Lieut. C. R. Ayre, Lieut. R. H. Tait, Lieut. J. Nunns, Capt. J. W. March, Lieut. A. Raley. (Identified in Nicholson, Fighting Newfoundlander, 108).
Courtesy of the Rooms Provincial Archives Division (F 30-26), St. John's, Newfoundland.
However, some people opposed the NPA. Its most vocal critic was William Coaker, the leader of the Fishermen's Protective Union and a member to the House of Assembly. He believed that the government was evading its responsibility by not managing the war effort itself and was uncomfortable that a group of non-elected people would decide how large sums of public money would be spent on the war. He feared some NPA members would use their powers for personal gain.
Nonetheless, the NPA managed the war effort for nearly three years. Alongside the recruiting, training and equipping of volunteers for the Newfoundland Regiment, it was responsible for many other tasks. It helped to recruit volunteers for the Royal Naval Reserve and Forestry Corps; played a role in veteran pensions, disability pay, and the civil reestablishment of returning soldiers; provided financial aid to the dependents of servicemen fighting overseas; and was involved in local fundraising and food production. Various NPA committees did most of the work, but major decisions had to be approved at the NPA's general meetings, and then endorsed by the prime minister and Opposition leader J. M. Kent (later William F. Lloyd).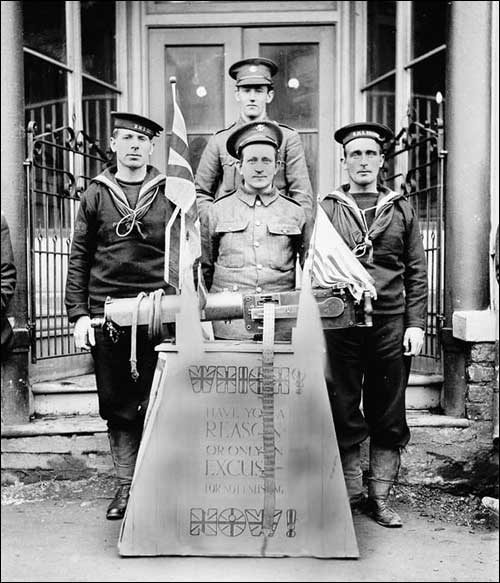 Recruiting Volunteers for Service Overseas
Courtesy of the Rooms Provincial Archives Division (NA 110-29), St. John's, NL.
But as the war dragged on, the NPA struggled to complete its duties in an effective manner. When wounded soldiers returned home in 1916, it became apparent that the NPA's pension and work-placement schemes were inadequate. On September 21, 1916, the Daily News published an editorial which called upon the government to replace the NPA:
"There is much condemnation, and apparently justly so, of the manner in which our wounded and invalided soldiers and sailors are being treated. In the defence of their country, they have suffered severely. Some have lost limbs, others have been grievously injured. Within a few days of their return they receive their discharge and are paid what small balance may be coming to them, and are then left wholly unprovided for, unless they think fit to approach the Patriotic Association and ask for aid. These things should not be. ... "
"The Government, anxious and properly so to keep the war administration far from the remotest tinge of party bias, have delegated their powers to those removed from party ties and influences. These have done good work, and the country is grateful; but they, or whoever among them may be responsible, have failed at a moment when failure is a serious evil. Let the Government, then, step in."
The NPA was also unable to enlist enough volunteers to replace all of those wounded or killed overseas in 1916 and 1917. Its recruiting strategy paid little attention to areas outside of St. John's and failed to attract many volunteers from the outports.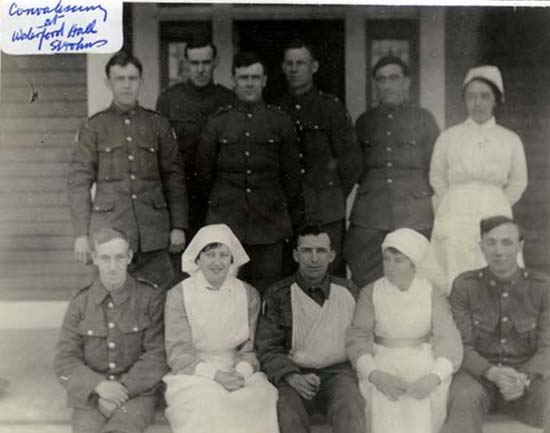 Injured Soldiers with Nurses at Waterford Hall, St. John's
Courtesy of the Archives and Special Collections (Coll. 190 4.03.007), St. John's, NL.
With casualties rising, and with no immediate end to the war in sight, the government recognized that it would have to introduce conscription and assume direct responsibility for the war effort. Morris formed a National Government in July 1917, which combined the People's Party, the Union Party, and the Liberals into a single coalition administration.
The National Government established a Department of Militia to take over the various war-related tasks from the NPA. It also passed the Military Service Act on April 23, 1918, which brought conscription into effect. However, no conscripted troops saw active service before Germany signed the Armistice on November 11, 1918 and fighting finally ended. With peace restored, partisan politics and tensions intensified and the National Government was dissolved by a unanimous vote of the House of Assembly on May 20, 1919.